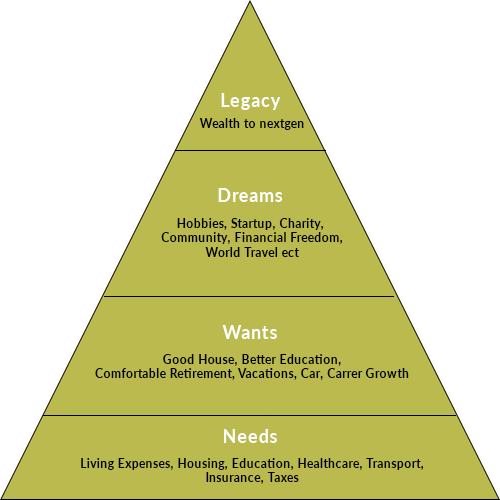 There is a popular saying; Personal finance is more personal than it is finance. We invest a lot of time and money in our investments; however, there is a possibility that we may have used up a lot of energy and money in achieving Low priority goals instead of High priority goals.
After having an experience of almost 15 years into investing industry and having interacted with thousands of clients over the course of time we have realized that it is imperative that our clients are well aware of their goals and vision and they should invest correctly.
We have designed a perfect solution by creating Goals Blueprint Initiative. Goals Blueprint, as the name suggests is a blueprint of your Goals from which we can construct a strong investment plan. Goals Blueprint will ensure that your investment is linked to and is in sync with your Goals.Having well specified goals provides us as an advisor the opportunity to study your needs and advise you better products and strategies accordingly. Further as an investor they provide the following benefits,
Clear time bound goals
Avoid the effect of Market noise
Constructive performance
Have decided priority
Active measurement of goals
Peace of mind
The Goals Blueprint will provide the Birds' Eye View of your periodic goals.It is my belief that this initiative will benefit you immensely and I'm confident that you will take advantage of this opportunity and plan your goals.